(video) The 1944 NAAFI Wagon.
This footage has no sound.
Not really sure where this footage from the archives of The British Pathe was filmed (France maybe?), but we see the NAAFI Wagon making stops for Soldiers who have 'wages' in their pockets!
Lots of smiling faces as the usual essentials of cigarettes, chocolates and snacks are purchased lol.
A little history on the NAAFI:
The Navy, Army and Air Force Institutes (NAAFI) is a company that was created by the British government on the 9th of December 1920 to run recreational establishments needed by the British Armed Forces, and to sell goods to servicemen and their families.
It runs clubs, bars, shops, supermarkets, launderettes, restaurants, cafés and other facilities on most British military bases and also canteens on board Royal Navy ships. Commissioned officers are not usually supposed to use the NAAFI clubs and bars, since their messes provide these facilities and their entry, except on official business, is considered to be an intrusion into junior ranks' private lives.
NAAFI personnel serving aboard ship are part of the Naval Canteen Service (NCS), wear naval uniform and have action stations, but remain ordinary civilians. NAAFI personnel can also join the Expeditionary Force Institutes (EFI), which provides NAAFI facilities in war zones. EFI personnel are members of the Territorial Army serving on special engagements, bear ranks and wear uniform. NCS personnel can similarly volunteer to join the Royal Navy when it goes on active service. Petty Officer John Leake, NCS canteen manager in HMS Ardent, was awarded the Distinguished Service Medal (DSM) in the 1982 Falklands War for his courage while manning a machine gun.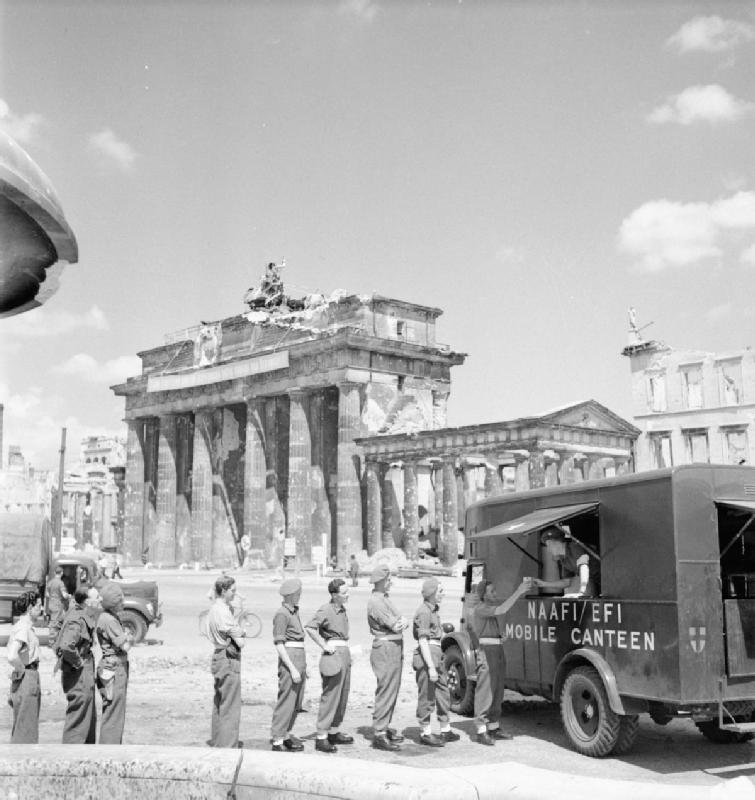 Read more about the history of the NAAFI at this link.