Operation Westminster, the silent take over of the House of Commons
The Guards occupied the House of Commons on September 11th, 1950 after hundreds of Guardsmen, drawn from Caterham, London, Pirbright and Windsor took over the Mother of Parliaments.
They did this in silence, in fact, they all did it in slippers!
One of the many historic buildings badly damaged in the London Blitz of WW2 was the House of Commons, which was substantially re-built when peace was restored.
In the process, a number of improvements were made, notably air-conditioning and enhanced acoustics.
To test both, the chamber had to be occupied as if Parliament was sitting, so the Guardsmen, supplied with slippers to protect new carpets that had been fitted, filled the Government and Opposition benches as well as the public galleries.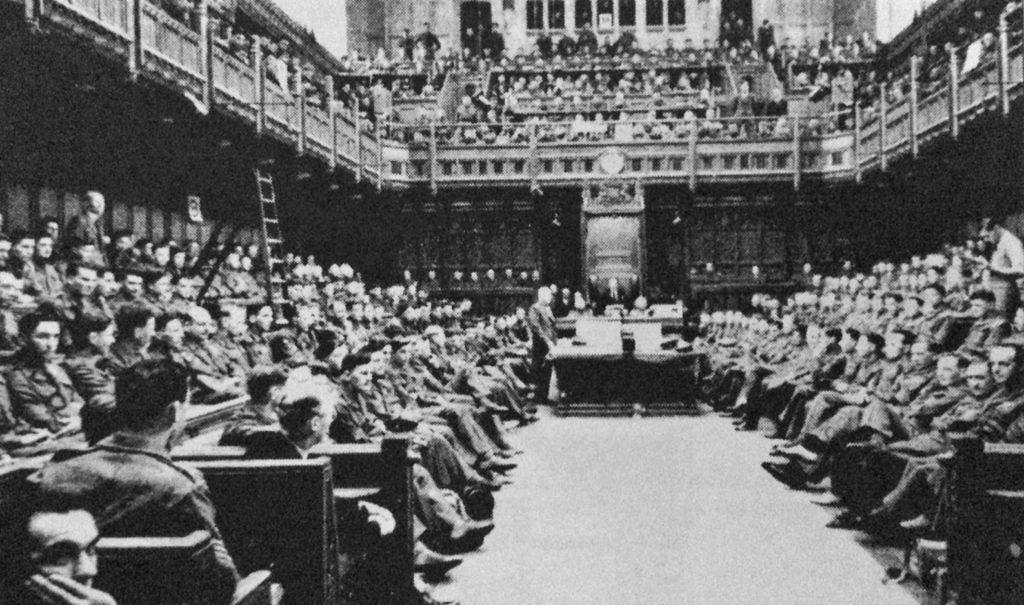 Donald Thompson, a 21-year-old Coldstream Guardsman, stood in for the Prime Minisiter (at the time Clement Attlee). A 19-year-old Irish Guardsman, Ronald Chicken, from Liverpool, sat in Winston Churchill's seat.
Lord Morrison welcomed the Guardsmen as 'New Members'. Grinning, he said he was delighted that the Country had come to its senses at last and had elected a sensible, intelligent Parliament.
MPs for the day, the Guardsmen moved through the lobbies and round the galleries, taking part in a series of experiements to check to new sound system, built into the benches, and the clarity of the acoustics.
The House rose in the afternoon to allow the temporary members to return to their 'constituencies' in Caterham, Pirbright, Windsor and London.
---
This article is an edited transcript from 'The Guards and Caterham – a Soldiers Story'.
This book can be purchased on Amazon at the link below
https://www.amazon.co.uk/Guards-Caterham-Ronald-George-Melvin/dp/095359050X
---