Life in the Guards Depot is systematic with the sounds of Bugle Calls, the origins of which are buried deep in centuries of tradition.
Recognition and the understanding of these calls are a steep learning curve for all recruits that step through the gates to the Depot.
These calls open and close the day, they summon all to parade for drill and punishments, they announce the Guard Duty, fatigues and meals, and they warn of emergencies, like fire and attack.
To the Guards Depot Recruit, they are all urgent and vital in keeping out of trouble – or used to not get in deeper if trouble has already come calling.
To fix these Bugle Calls indelibly in the memory, each had a piece of ancient verse which matched the phrasing of the bugle's notes, and conveys a rough sense of the call's message (we can probably all remember the humming of 'Come to the Cookhouse door, boys; come to the Cookhouse door!' when Lunch was announced by the Drummer on Duty).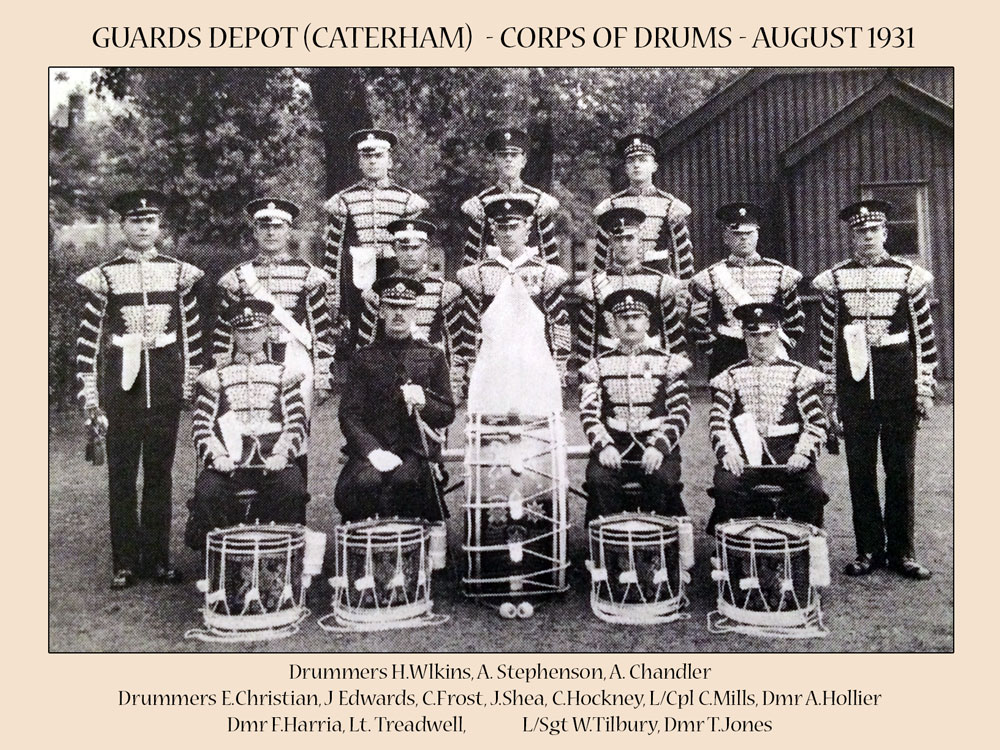 Many of these verses would have brought a blush to a maiden's cheek before the days of TV drama, but the words today, like the calls, were old when the Guards were winning Battle Honours in Napoleonic and Crimean Wars.
These are a few of the Bugle Calls that were in regular use (some still are):
POST CALL:
Letters from Lousy Lou, boys, Letters from Lousy Lou!
OFFICERS:
Officers come to Headquarters, Officers come to HQ; do do do!
PIONEERS:
Pioneers! Pioneers! Pioneers! The dogs have shit on the square!
TAPS or QUARTER CALL:
You've got a face like a chicken's arse!
DISMISS or NO PARADE:
There's no Parade today, there's no parade today!
PARADE FOR GUARD:
Come and do a Piquet, boys, come and do a Guard; be on time or else, boys, it's seven days hard!
FATIGUE PARADE:
I called him, I called him, the bastard wouldn't come; I called him, I called him, he's in bed with Chelsea Lil!
DEFAULTERS:
You can be a Defaulter as long as you like, as long as you answer your name!
SICK CALL:
Sixty-four, ninety-four, he'll never go to sick no more; the poor bastard is dead!
ALARM:
The enemy's about, the enemy's about!
FIRE ALARM:
There's a fire, there's a fire; run, you bastards, run, you bastards, run!
OFFICERS' DINNER:
Officers' Wives get pudding and pies, while Sergeants' Wives get skilly!
REVEILLE or ROUSE:
Get out of bed, get out of bed; you lazy bastards, get out of bed!
ORDERLY ROOM or MEMORANDA:
Memoranda, memoranda; be sharp for memoranda; you're in a state, you're going to be late, the CO's waiting for you; justice will be done!
FALL-IN:
Fall-in A, fall-in B, fall-in all the Company!
COOKHOUSE:
Come to the Cookhouse door, boys; come to the Cookhouse door!
Most of the calls, and many others, used to float out every day from Caterham and Pirbright. In old 'Caterham' days, even local clocks were set by them as a call was heard.
---
This article is an edited transcript from 'The Guards and Caterham – a Soldiers Story'.
This book can be purchased on Amazon at the link below
https://www.amazon.co.uk/Guards-Caterham-Ronald-George-Melvin/dp/095359050X
---